About Chris
Chris Oliver graduated from the Anglo-European College of Chiropractic in Bournemouth in 1994 with a BSc., having been a regular patient in the student clinic for several years prior to starting. He worked in clinics in Cirencester, Cardiff and Swindon before opening his own clinic in Chepstow, Monmouthshire in 1996.
For the first five years the clinic was called the "Wye Valley Chiropractic Clinic" and was situated on "The Back" by the River Wye. In 2001 he relocated to Tollgate House, 1 Newport Road and changed the name to "Chepstow Chiropractic Clinic"?
Prior to being a Chiropractor Chris first trained as a Dispensing Optician and worked in Middlesex and then as a Registered General Nurse at the Royal Free Hospital in London for five years. For fifteen years he worked mostly in the Intensive Care, Coronary Care and Cardiac surgery fields and therefore can call upon a considerable wealth of medical knowledge. Chris has also worked as a clinical supervisor at one of the Chiropractic schools for twelve years and has been an examiner for the General Chiropractic Council for over ten years. He is also a member of the British Chiropractic Association.
Specialities
Chris uses the traditional diversified chiropractic techniques using joint manipulation, mobilisation and massage but also uses a variety of other techniques from courses that he has attended over the last 19 years, for the benefit of his patients. His treatments are all complementary to osteopathy and physiotherapy treatments.
Some techniques that Chris has trained in include:
Sacro-Occipital Technique (SOT)
Applied Kinesiology (AK)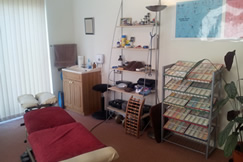 Clinical Kinesiology (CK)
Inter-X Therapy
Chris's particular interest lies in nutrition, allergies and intolerances and their effect on muscles and joints, having been cured himself of chronic back pain after 16 years by being advised that he was a coeliac (gluten intolerance) with associated lactose intolerance. Chris owes a particular debt of gratitude to the Osteopath Chris Astill-Smith in Devizes who diagnosed him and taught him much of his nutritional knowledge.
Consultations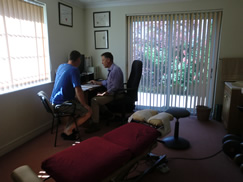 Free advisory consultations are offered for those unsure if Chiropractic can help them.
Consultation: £30.00 with a reduced treatment fee of £15.00 if given at the same time.
Treatment fee: £30.00.
Reductions are offered to children under 16 years of age.
Conditions treated:
Most types of back pain and neck pain  -  acute or chronic
Headaches
Shoulder pain
Tennis/Golfer's elbow
Leg pain
Knee pain
Foot pain
Arthritis
Slipped disk
Backache
Back spasms
Back problems
Sore back
Patients can also be referred for x-rays at Chepstow Hospital if required or for MRI at Cheltenham or Pontypridd and now also the University of South Wales offers a Diagnostic Ultrasound service which is particularly good for diagnosing ligament and muscle injuries, which may require surgical intervention.
Contact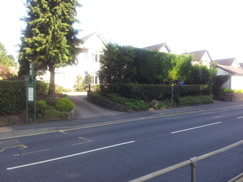 The clinic is very easy to find being 1 mile from the M48 and is the first house on the left on turning towards Chepstow on the A48. There are two entrances with parking for up to four cars and there are bus stops right outside for all major routes.
Opening times: 
Monday:
Wednesday:
Thursday:
Friday:
Saturday:
8.30am - 7.00pm
8.30am - 7.00pm
8.30am - 7.00pm
8.30am - 6.00pm
9.00am - 1.00pm
Christopher W Oliver
Chepstow Chiropractic Clinic
Tollgate House
1 Newport Road
Chepstow
NP16 5BA
Tel: 01291 627 066
Email: chris@chepstowchiropracticclinic.co.uk